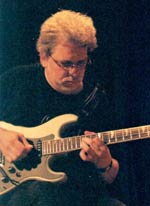 Robin Taylor - composer, multi-instrumentalist, sound manipulator, arranger, producer and record label owner, born 1956 in Copenhagen, Denmark. Selftaught.
Started playing guitar at 12. In the 1970s he mainly played bass in several local rock groups. During the decade he also explored the possibilities in sound recording and made experiments with tape recorders.
Radio debut in 1978.
Met keyboard player Jan Marsfeldt in 1988 and released his first record in 1991. Formed studio workshop group Taylor's Universe in 1993, together with Marsfeldt and Mads Hansen (dr) and various guests such as Hugh Steinmetz (tp), Jakob Mygind (s) a.o. Film music (93) and three releases by TU (1994-98) - the latter with a new line-up including Karsten Vogel (s) and Rasmus Grosell (dr). TU revived in 2004 and continue releasing records. Member of Communio Musica - led by Hugh Steinmetz - 1996-97.
Has continued making solo records with the participation of Vogel, Steinmetz, Hansen, Grosell amongst others.
Formed Taylor's Free Universe in 2000. The core of the group is Karsten Vogel: saxes, Pierre Tassone: violin & electronics - together with Taylor on guitar, keyboards & electronics. The rhythm section has varied a lot through time. TFU have appeared at various venues - e.g. Copenhagen Jazz Festival 2003 and Aarhus International Jazz Festival 2004.
To read an interview with Robin Taylor, please click here.