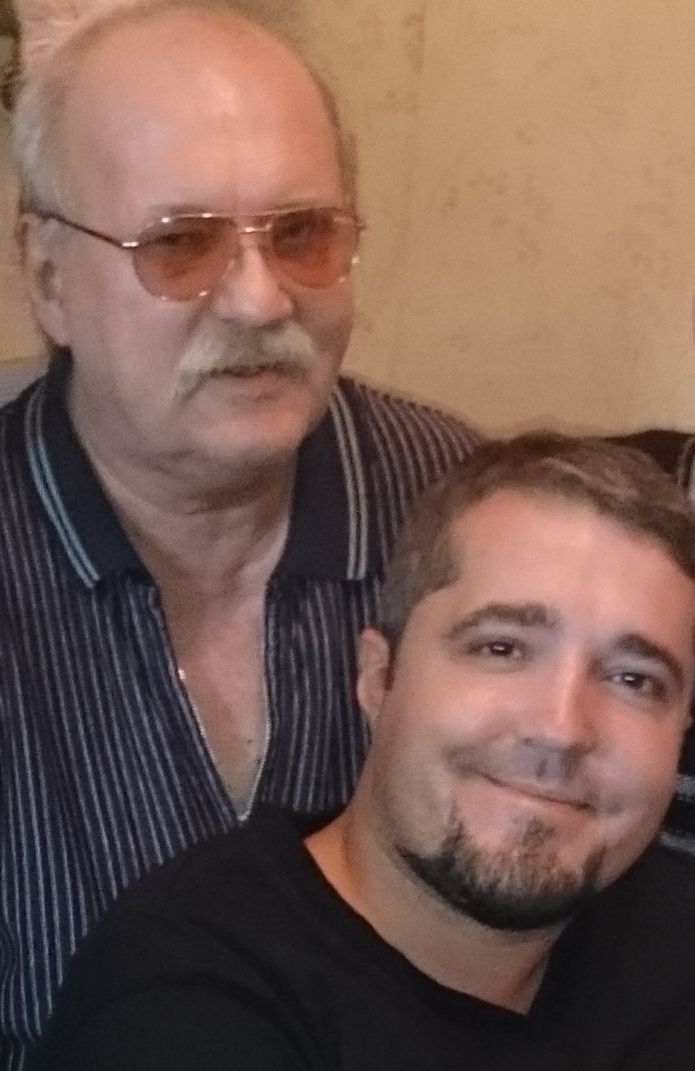 July 17, 2017 - a tragic day for our family. Exactly one year ago my father passed away. Vitaliy Georgievich Menshikov (31.10.1961 - 07.07.2017). He was a journalist and musician, the author of the legendary books "Encyclopaedia of Rock Music" (1990) and "Encyclopedia of Progressive Rock" (1996), founder and author of one of the the oldest site about progressive rock www.progressor.net, and also his Russian branch - a site that is a continuation of the books - progrockmuseum.ru, For his accomplishments he receieved the IOSIS FEST AWARD in 2009 "For Contribution to the Development of Rock Music in Uzbekistan". In addition to his books and the Internet sites he recorded 4 albums, 2 with the band X-RELIGION and 2 in cooperation with American musician Jeremy Morris, which was released on various progressive rock labels around the world.
My father's death came as a result of a heart attack and was a big shock for all of us. Nothing foreshadowed his death. It happened that he was not feeling well, but not to the point of causing any worry. His main project in life is the site progressor.net, a project he had been working on for the last 20 years of his life. After the death of Vitaly, the issue of the continuation of the site was not immediately resolved. I had no idea on how to run the site on a technical level. I did not know what the only co-author Olav Martin "ProgmessoR" Bjornsen would say, as well as the people without whom ProgressoR would never have been possible: Francis Monkman, George Chkiantz, Frank Leonhardt. But I really wanted the site to continue.
I have been making music for a long time, but I'm not as good at progressive rock as my father was. I used to be involved with the sites of my music projects. All of them were on modern platforms and this gave hope that I could work in the more ancient code on which progressor.net is written.
Since childhood, I knew by name all of my father's friends, with whom he worked, talked in the framework of the site and in general progressive rock music. But I never talked to anyone except Auntie Dee Ames and Ken Westhphal. On the day of my father's death, I wrote Olav, Francis, George and all his friends. Everyone, who worked with ProgressoR site supported the idea of continuing the work of the site. Thank you so much! Thanks to e-mail and Facebook, I quickly found almost everyone with whom my father worked in recent years. Modern technology, as well as invaluable help from my friend Ashot Khurshudov, provided an opportunity to continue the site, as well as mapping out future developments.
Communicating with Olav, we quickly became friends and found a common language. Communication through social networks turned out to be very convenient and easy for us! We made a decision, which Vitaly often considered, but postponed: We have opened a page for progressor.net in the social network Facebook https://www.facebook.com/official.progressor.net! Also Olav represents the Progressor on Twitter. Now all the news bands and lables are posted on Facebook! There are also links to the traditional monthly updates of the site - reviews of albums in the world of progressive rock. Thanks to Olav Martin Bjornsen, the main author of the site, for continuing to write reviews and work on progressor.net.
A year after his father's death, one can sum up a little and look to the future! In the near future we will develope a plan for moving the site to a new engine. This is a rather complicated process and one must prepare well for this! Also, in the near future we hope to attract new authors who will be able to cooperate with us on an ongoing basis, as well as constantly receive the newest and most interesting albums and links in the world of progress!
Also, a year after my father's gone, I finally was able to update the site progrockmuseum.ru . I hope in the near future this site will be updated again on an ongoing basis!
Remember all those who knew Vitaly!
To lose loved ones is very, very hard!
Take care of yourself and your loved ones!!
Appreciate every moment!
Thanks to all who are around!
Thanks to God!
Long live ProgressoR.net!
Dmitriy Vitalevich Menshikov
[

]

Monument to Vitaly Georgievich Menshikov.